Advertise on ARMSLIST
With over 7 million visits to our site each month and hundreds of millions of ad impressions available, ARMSLIST is the premier website to advertise in the firearms industry.

What is Your Company's Digital Advertising Strategy?
ARMSLIST develops a customized digital marketing solution to promote your product to your ideal customer within your budget. ARMSLIST users are actively engaged in buying firearms and shooting products. Your ads will have an opportunity to catch the attention of firearms enthusiasts actively involved in the buying process.
Benefits of Online Advertising:
Digital Ads make your traditional ads work better
Digital Ads make for a more engaged customer experience
Digital is 5 to 6 time more efficient than direct mail on a cost per conversion basis
ARMSLIST.com Visitor Information:
95% U.S. Traffic
65 Million page views per month
6.3 million sessions per month
Average over 6 minutes per session
Over 10 pages viewed per visit



What We Offer:
Bronze Package

Traditional Banner Ads in 728x90, 300x250, 160x600 and 300x600 (Approx 30,000 Daily Impressions)
Social Media Post
Sponsored Video
Total Impressions: 900000 / 30 days (whatever comes first)
Investment: $1500
Silver Package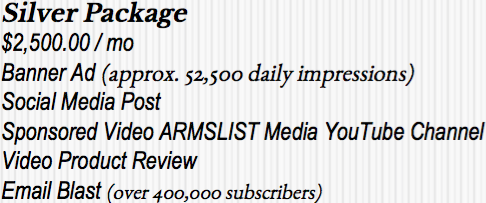 Traditional Banner Ads in 728x90, 300x250, 160x600 and 300x600 (Approx 52,500 Daily Impressions)
Social Media Post
Sponsored Video
Total Impressions: 1.5 Million / 30 days (whatever comes first)
Investment: $2500
Gold Package

Traditional banner Ads in 728x90, 300x250, 160x600 and 300x600 (Approx 90,000 Daily Impressions)
Social Media Post
Sponsored Video
Video Product Review
Email Blast
Total Impressions: 2.7 million / 30 days (whatever comes first)
Investment: $5000
Platinum Package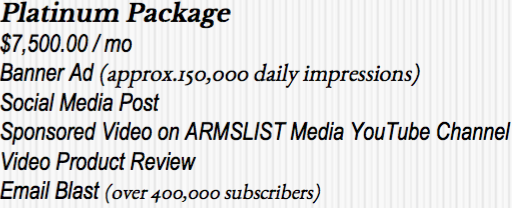 Traditional Banner Ads in 728x90, 300x250, 160x600 and 300x600 (Approx 150,000 Daily Impressions)
Social Media Post
Sponsored Video
Video Product Review
Email Blast
Total Impressions: 4.5 million / 30 days (whatever comes first)
Investment: $7500
Please direct inquiries here: Send Mail