Advertise on ARMSLIST
With over 7 million visits to our site each month and hundreds of millions of ad impressions available, ARMSLIST is the premier website to advertise in the firearms industry.
Premier Advertising Opportunity
ARMSLIST users are actively engaged in buying firearms and shooting products. Your ads will have an opportunity to catch the attention of firearms enthusiasts actively involved in the buying process.
Our users are interested in our content; browsing 20 pages each time they visit.
The layout of ARMSLIST avoids advertisement overcrowding by limiting the number of ads displayed at one time.
Bottom Line: The traffic pattern and advertisement layout virtually guarantees your ads will be seen by interested firearms enthusiasts.
Advertising Options
There are four advertising positions available:
728x90 - Leaderboard
(2) 300x250 - Medium Rectangle
160x600 - Wide Skyscraper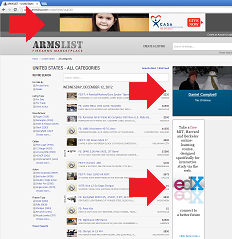 Questions can be sent to us through our contact page.
Advertising Restrictions
We do not allow lewd, pornographic, or distasteful ads to be displayed on the site.
Minimum order is $2,000/month.
Email Sponsorship
Each month we send a newsletter to our subscribers informing them of the latest news and monthly giveaways. We also include a single vendor "special offer" at the top the newsletter.
This offer is a message of 250 characters or less and includes a direct link to the vendor's website.
Contact us for current rates and number of subscribers.